Let the voting begin for the August 2016 Polaris ATV of the Month! We will leave the poll open until the end of the month and then announce the winner. We got some really good pics this month, thanks to everyone that participated and GOOD LUCK!!
Swinn467
2000 Sportsman 500
25" Wanda mud tires
Badland 2500 winch
Old509cc
1999 Sportsman 509
Wiseco 93mm forged piston. HO head. HotCam stage 2. Bronco rod. QSC clutch kit in a QSC primary.
All steel grease-able tie rod ends. HPD steering bushing. Custom shock covers.
25" Sedona ripsaws on 12" Badlands. ODI grips. Block & tank heaters.
Backup/work light. LED low beams. HID 35W high beam. Rev override switch delete.
Alba water temp, VDO volt, oil temp and pressure gauges. Deka ETX15. Borla 14" Pro XS muffler.
Cjrosack570
2015 sportsman 570
Bison front & rear bumpers
Wanda mud tires
Polaris low windshield and handgaurds
KFI 2500# winch
QSC clutch kit
liveaboard74
carch4
03 sportsman 600Twin custom paint with a 2" lift all around by Black Path,chrome front bumper, itp SS rims on GBC dirt devil tires, and heavy duty suspension all around LED light bar above winch pic taken in NY in the adirondack park
Lollygagger77
Orange16570
2016 sportsman 570
Kfi stealth 3500 pound winch
Powermadd hand guards
fsadvar
16white850
2016 Polaris Sportsman 850
Polaris Lock and Ride Front and Rear Cargo Boxes
Polaris Front and Rear Brush Guards
14" STI HD3 Wheels 6+1 offset
Cycle Country Mid Plow Mount
Cecco Racing Frame Braces
Polaris Hand Guards
Warn XT25 Winch
29" Bighorn Tires
12" Led Light Bar
QSC Clutch Kit
ajarman
[IMG]
[/IMG]
2009 Sportsman 850 XP
ITP SS216
28" Intimidators
GSE Trail Tamer
QSC Clutch Kit
Duckmysick570
2014 570 SPORTSMAN (RED)
WRAPPED HEADER
25 INCH KENDA EXECUTIONERS
tenspeed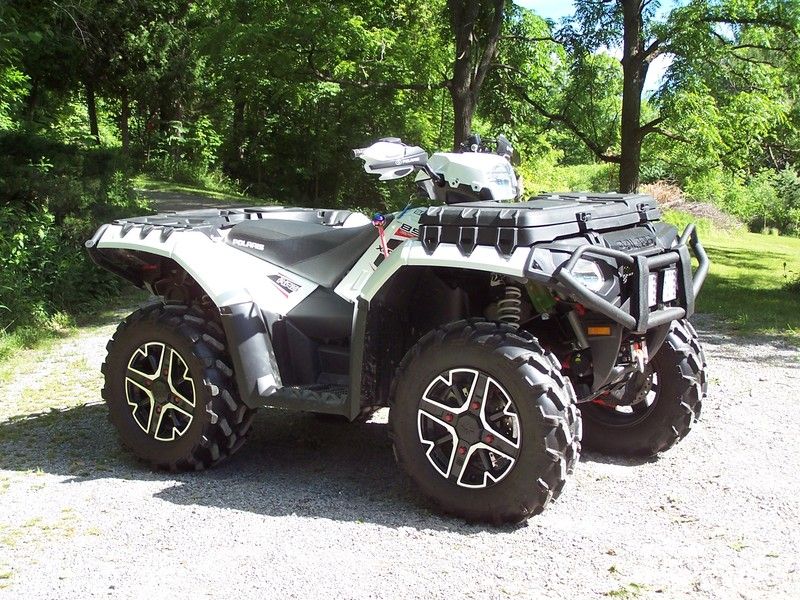 2014 Polaris Sportsman XP 850 H.O. EPS Pearl White LE
Lock & Ride front box
Hand guards
Heated grips and thumb
LED Headlights
Front flood lights
Reverse light
Front and rear brush guards
Cecco Racing frame braces
Limit Edition cast aluminum 14" wheels
26" PXT 6 Ply radial tires
Fox Podium X adjustable piggyback reservoir shocks
Wireless remote 2,500-lb Polaris HD Winch
60" plow
Rozco
Completely stock 2004 Predator 500 Dale Earnhardt Jr
Ugatyler
2015 sportsman xp 1000
AlexH