Discussion Starter
•
#1
•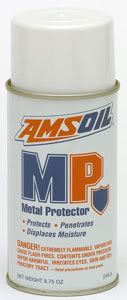 ​
AMSOIL Metal Protector (MP) and
AMSOIL Heavy Duty Metal Protector (MPHD)
are easy-to-use spray-on products that protect metal surfaces, displace water and silence squeaks. MP cuts through rust and corrosion to restore free movement of "frozen" hardware parts. MPHD lubricates metal surfaces, leaving a dry wax like film. Neither forms gum or sludge.
Click here for more information.

Read a Mar 09 article on the MP versatility.
If you would like more information about this product or something else from AMSOIL just PM me.
Take care,