:wavey: Hello ATV confederates and partners in crime. My name is Mick. I am located in Smyrna, Ga., just outside Atlanta.
Not long ago I announced in the newbie section that I have a project ATV that I was about to restore/refurbish/work on and I am planning to discuss it here, including pictures. This is the kickoff of that endeavor. I invite your participation with critique and commentary. I'll do my best to keep it interesting, but sorry, I can't say everything in twenty-five words or less. I'll leave that to the twittering nit-twits. Now, on with the show.
I have been looking at ATV's, from a distance, for several years, but never got really inspired to get one until recently. The research I did showed me that it would take somewhere between $4000 and $8000 to get a new one, depending on a number of factors. I couldn't go there, so I put it on the back burner. A few weeks ago, a friend I work with, Amanda, mentioned that her husband, Jay, big deer hunter, fisherman, etc., was about to buy himself a brand new Polaris. My antennae went up immediately and I began to ask questions. Their old 4x is a 1992 Polaris 350L Trail Boss 4x4. It was for sale, 'as is'. It had a broken motor mount, and a few other issues, though the motor ran 'good and strong'. He was asking $900. I was thinking more like $500, even though I had never laid eyes on the machine, other than the pictures Amanda took with her cell phone, and had no realistic idea of what a machine like that would be worth. I let it drift for a few more days until one day Amanda was talking about the fact that the new Polaris was too wide for the loading ramps they used for the old Polaris, meaning they were going to have to buy either new ramps, or a trailer, neither of which were probably covered by the new quad loan. Jay was needing some loose cash to help him get mobile. Hmmm...the new owner was also going to need some ramps, and I had a little bit of loose cash...so, after mulling it over for a day or two, I made an offer: $700 for the machine, $100 for the ramps. Word came back...Deal! He delivered it a few days later, and now I have it...and he has my $800. I could have offered $600, but didn't figure he would come off his price that much. To tell you the truth, I was really surprised when he accepted my offer. I was expecting for him to come back with $800 for the bike, which I would likely have refused. Maybe he figured that. Up to that time, I had never seen the actual machine, only pictures. I had met the husband, Jay, once at a party. Other than that, I had not even so much as talked to him on the phone. I did have a most important ally, however. My friend, his wife, Amanda, was very forthcoming with honest, sincere discussion, before she knew that I was interested in buying the quad.
The Clunker in question, front and back: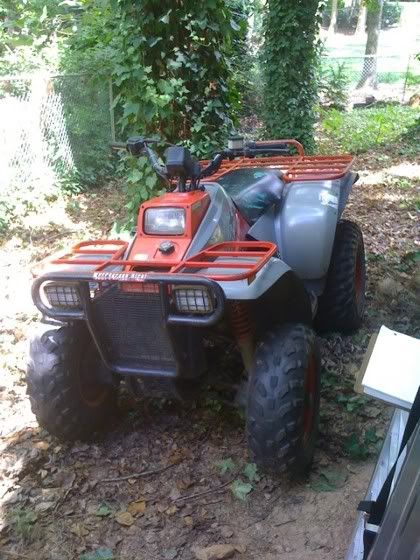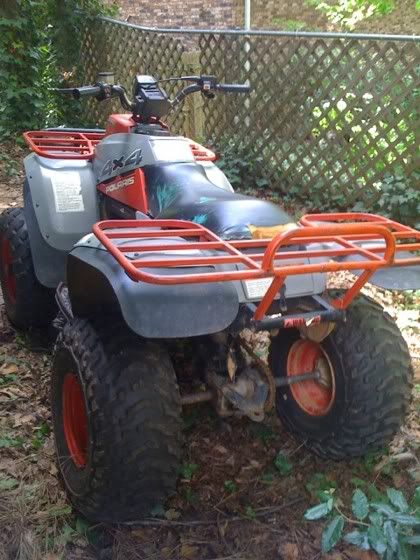 I know some of you will be real critical and say that I paid way too much for a bucket of bolts, but I say, be that as it may, I thought it was a reasonably good deal. He came off his price a little bit and I came off mine. I really do think it is a pretty good machine, even if it is almost 20 years old and has had at least two prior owners, and even if it currently has some serious issues. With some good mechanican and a few cosmetic touch-ups, it can be a good ride for someone who doesn't plan to rawhide it much (That would be me). Sure, I would love to be writing about how I got it for three hundred with the ramps thrown in as a bonus. The bottom line is, you can't learn to play a guitar unless you have a guitar. So, now I have one. I can go forward. My thinking is that for less than fifteen hundred, I can have a solid, reliable, handsome, four-wheeler for my entertainment and pleasure. That's doable with the right mechanic, meaning fiscally reasonable. I can do the cosmetics myself.