Discussion Starter
•
#1
•
2017 850 SP with under 100 hours.
I was out riding yesterday and my throttle cable got stuck under the plastics causing it to be engaged and lurch forward. I hit the brakes while it was in gear revving high to prevent it from moving, checked around, found the cable stuck, pulled it free, rpm's came down and all was good except my check engine light came on. Checked the code and this was it.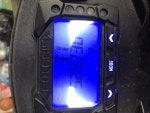 Machine ran fine for the rest of the day. But the damn light won't come off. Checked my owners manual and there is no reference to this code but reading around looks like it may be an EPS code. EPS is working fine, all electrical connections have dielectric grease and are clean. I also read that sometimes if you have the brake engaged and throttle at the same time you can get the check engine light, that is what I'm thinking my culprit is.
My question is how do I get rid of the dang check engine light?