I have looked and looked for info on how to adjust that sloppy drive chain. I thought that people were saying to slide the rear axle to tighten it. It doesn't slide! I misunderstood. It rotates! I figured it out finally! So I hope to help enlighten people about it...with pictures! It seems that this might apply to more than just the 2001 Trail Boss 325, but I can't confirm that.
In the first picture, you see two long bolts. Both of those need to be loosened. They are tight, so use a bit of power to get them loose. The nuts on the bottom are nylon lock-nuts. You don't need to remove them completely. You also don't need to take off the hitch, as I did. If you want to take it off, it just slides off...with a bit of difficulty, but it will make it easier to get a wrench on the adjusting nut later. I believe they are 5/8" nuts.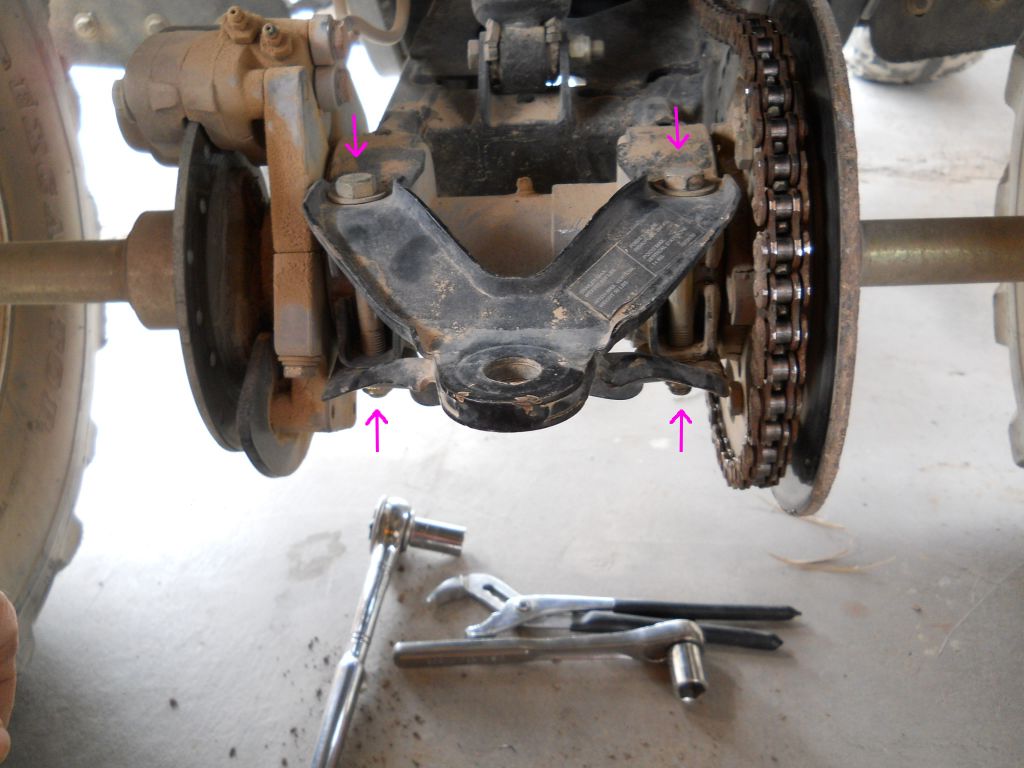 Next, on the left side, on the bottom of the brake caliper, there are two nuts. You need to loosen those. Once they are loose, you are ready to rotate the axle. Use whatever tool you can find for that very large nut looking thing on the right side. I used the adjustable pliers shown in the picture, and it just made it! A very large wrench would work. So would a pipe wrench. A chain wrench or oil filter wrench would probably work, too. I used what I did because it's what I had available. Anyway, get on the part and just rotate it gently forward or backward. It will turn easily if all 4 bolts are loose. I turned it until the slack was out of the chain. Then I got on the bike and bounced it up and down a couple of times. I think that put a good amount of slack in the chain. It needs a little slack. Then just tighten the 4 bolts and you are done!
Finally, this is what the chain looks like after I tightened it. It was actually riding on the black metal underneath. Now I don't hear it slapping at all. Do NOT check the tension with the engine running! Because it is automatic, it keeps constant pressure on the chain. So the engine must be stopped to get it to release the tension and let it sag. I read somewhere that said it should have 1/4 inch of slack. Mine now has about 1/2 inch, and it seems to be fine with it. Also, mine is a 2001 and it showed no signs of ever being adjusted, so maybe it will be another 15 years before I have to do this again.
I hope this helps someone. Good luck.
Spencer