I keep my Polaris 550 EPS in MN for summer/winter use while on vacation. My mom's older Bombardier 400 Outlander Max has never started well in the winter compared to anything with fuel injection as it has a carb and has historically had problems keeping the battery charged. Last winter I had the cargo compartment of the Polaris off most of the time for access to the battery so I could jump the Outlander.
This summer I decided I would only take the plastic cargo compartment off one more time to install cables to make external terminals for the jumper cables.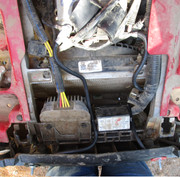 View of the battery and wires leading to the front.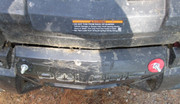 Front view showing posts.
My brother was not impressed until he needed to jump his precious BMW 328i he keeps in long term storage in the garage. The jump was only to power the car enough to open the trunk and gain access to the battery and re-condition it.
I still need to get a red and black caps to cover the terminals. For now I color coded some washers to ensure I don't blow anything up when jumping another RV.
Ranb