Discussion Starter
·
#1
·
i ordered my rotopax gas packs on sat night along with the alum mounts. i got them today. vary nice i may add. im gona mount them to the front rack. my idea is a bit differnt. but pretty much the same idea. i whent and got 2 sheets of alum today. costed $7.50ea.... i got a great deal on them i may add.
but now that i look at the pic. i wonder if i can get by with one alum piece. guess im gona have to check today.
anyways. i dont like to drill any more hole than is already in there. i prefer to use oem holes. this way if i want to change my mind. there wont be holes in spots i dont want them to be. plus it wont leak.
im gona get 8 stainless steel bolts to replace the oem screws holding the black rails on the rack and use the oem hols to mount the alum to the rack. i will also use spacers to hold the alum off the rack to prevent wear on the plactic. im also gona remove the bases on the rotopax mounts so i can mount them right to the alum. this way it will be a nice clean look. and i wont have a bolt head on one side and a nut on the other.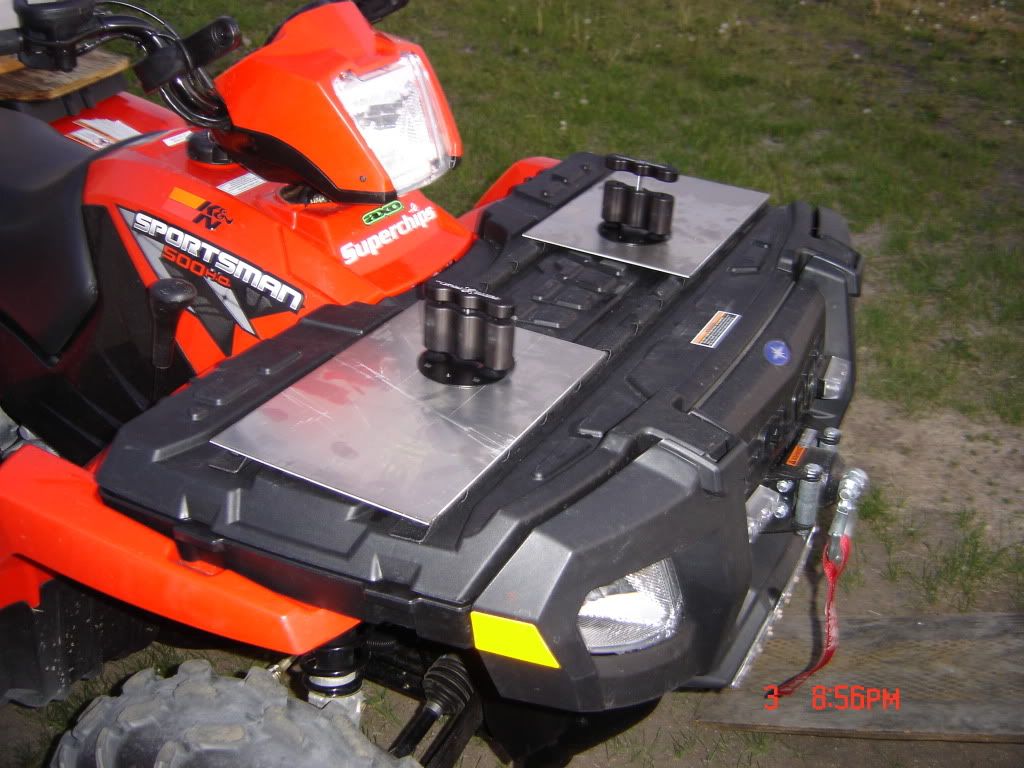 i do wish the packes were 2 1/2 gal so it adds up to 5gal or 3gal ea to add up to 6gal. but quess the 500 arent as big of a pig on gas as the bigger atvs.
heres a look at it just sitting on the rack. lookes better than a regular 5gal gas can.