Bonjour ! Hello !
Voici mon projet de restoration d'un trailboss 350L 1992 que j'ai commencé cet hiver.
This is my 1992 trailboss 350L restoration project that i began this winter.
J'ai fait cet achat en me faisant un cadeau pour mon aniversaire que j'ai donc reçu le 12 janvier.
I have bought it as a self gift for my birthday that i received on jan. 12
Comme vous pouvez le voir ci-bas, ici c'est l'hiver et nous avons beaucoup de neige. Heureusement, le club local de VTT est ouvert 4 saisons, alors nous avons de beaux sentiers dammés.
As you can see, here it is winter with snow. But local ATV club is a 4 seasons one, so we have many open trails.
Jour de la livraison:
Delivery day: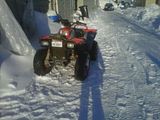 Premièrement, il n'y a plus de batterie. Comme j'en avais une de honda civic, j'ai fabriqué un support que j'ai soudé directement sur le chassis après avoir coupé l'ancien. Avec ca, toujours de bon démarrage et je ne manque pas de puissance pour le treuil.
First there is no battery, so i have an honda civic battery. To fit it, i make an home made rack that i welded on the frame after cuted old one. With it, always have a good start and no lack of power for the winch.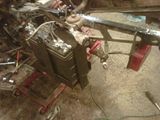 Avant d'aller plus loin, voici un lien très utile pour ce projet,
le manuel de service
.
Before going further, this link is a very usefull one for this project,
service manual
.
https://skydrive.live.com/embed?cid...=C8A36B0FDAEB79A2!149&authkey=AGaTkseqhYH161E
Maintenant une petite liste de ce qu'il y a à faire:
My to do list:
-changer la batterie ; Replace battery
-fabriquer un support pour la batterie ; make a battery rack
-changer les 2 lumières de route ; Replace 2 headlights
-Installer le fillage relais lumieres de route + interrupteur ; install new headlights relay and wiring
-peinturer support batterie noir ; paint battery rack in black
-peinturer Support à bagage avant et arrière rouge ; paint front and read rack in red
-cirer plastiques ; wax all plastic
-fabriquer un support pour le treuil + installer le treuil ; make a rack for the front winch and install it
-installer le fillage relais du treuil + interrupteur ; install winch wiring and relays
-installer un connecteur pour charger la batterie + interrupteur ; install a battery charging plug with switch
-changer reserve prestone ; replace prestone reserv tank
-changer les boulons du couvercle de la courroie ; replace strap cover bolts
-faire recouvrir le banc ; replace seat cover
-changer le essieu de sortie de la transmission ; replace transmission output shaft
-changer la roue dentelée avant ; replace front sprocket
-éliminer le jeu dans le support d'essieu arrière (manque 5 rondelles sur 8) ; repare slack in swingarm ( miss 5 washers on 8)
-Réparer le frein arrière ; repare rear brake system
-Installer un klaxon ; install a horn
-Installer un relai commander par la clef pour alimenter tout les accessoires ; install a relay command by key switch to drive all acessories.
-Changer la courroie ; replace the strap
-Changer l'embrayage ; replace the clutch
-Ajuster la tension des chaines ; adjust chains
-Changer les 2 amortisseurs avant ; replace 2 front struts
-Peinturer les roues en rouge ; paint wheels in red
-Ajuster la pression des pneus ; adjust tires presure
Voila c'est ce que j'ai trouvé à date ; This is what i have found for now.